Arthritis of the Ankle – Total Ankle Joint Replacement Surgery vs. Ankle Fusion
Arthritis is the most common cause of disability in the United States, limiting the activities of nearly 21 million adults. The CDC Arthritis Program is working to improve the quality of life for people affected by arthritis and other rheumatic conditions by working with states and other partners to increase awareness about appropriate arthritis self management activities and expanding the reach of programs proven to improve the quality of life for people with arthritis. For more information on arthritis programs in the Orange County area, contact our Total Ankle Replacement Surgeon in Orange County.
Causes of Ankle Arthritis
The causes of many of the other forms of arthritis are unknown. Scientists are studying the role of factors such as genetics, lifestyle, and environment in the various types of arthritis.
Symptoms of Ankle Arthritis
The pattern and location of symptoms can vary depending on the type of arthritis. Generally, people with arthritis feel pain and stiffness in and around one or more joints. The onset of arthritis symptoms can develop gradually or suddenly. Arthritis is most often a chronic and progressive disease, so symptoms may come and go, or persist over time.
Treatment of Ankle Arthritis, Pain
The focus of treatment for arthritis is to control pain, minimize joint damage, and improve or maintain function and quality of life. According to the American College of Rheumatology, the treatment of arthritis might involve the following:
Medication
Non pharmacologic therapies
Orthotics
Physical or occupational therapy
Splints or joint assistive aids
Patient education and support
Weight loss
Conservative remedies can be found online 
Surgery for Ankle Arthritis in Orange County
Ankle Arthroscopy can be a very effective and easy procedure to relieve pain in the ankle joint
Total Ankle Joint Replacement Surgery vs Ankle Fusion Surgery
Total ankle joint replacement of the ankle surgery is a fairly new and innovative invention.
Ankle Joint replacement should be reserved to patients that are 50 or older. Total ankle joint replacement is ideal for the patient that likes to walk, play golf, and participate in sports that do not require a high level of impact on the ankle.
Ankle joint fusion can be done at any stage of life. After an ankle joint fusion surgery other joints in the foot will increase their range of motion to accommodate for the decreased ankle joint function. After ankle fusion surgery the patient can participate in all activities.
In order to preserve the longevity of the remainder of the joints heavy impact activities should be kept to a minimum.
For a consult on Ankle Joint Fusion or Total Ankle Joint Replacement surgery please contact Dr. Kolodenker.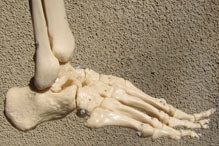 Last Updated 11-8-2016