Rheumatoid Arthritis
Help from your Podiatrist in Irvine and Huntington Beach – California
Rheumatoid arthritis is a disease in which some cells of the immune system
malfunction and attack healthy joints.
Rheumatoid arthritis causes inflammation in the lining of the joints. The signs of
inflammation can include pain, edema, redness, and a feeling of warmth around
affected joints. Serious damage can lead to permanent joint destruction, deformity,
and disability.
The synovium thickens and produces an excess of joint fluid. This overabundance
of fluid, along with inflammatory chemicals released by the immune system, cause
swelling and damage to the joint's cartilage and bones.
Symptoms
Rheumatoid nodules
Subluxed or Dislocated toes
Hammertoes
Bunions
Heel pain
Achilles tendinitis
Ankle pain
Treatment
Medication prescribed by a patient's primary doctor or rheumatologist
Accommodative orthotics or braces
Steroid injections
Surgical correction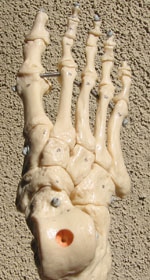 Last Updated 1-05-201t